NEWS ARTICLES
(Freelance services provided upon request. All request must be submitted via email.)
UCLA Study Reveals Educational and Social Challenges Affecting Black Youth in LA County
African-American students in Los Angeles County are currently facing a dual-threat of inadequate educational opportunities and support. It has been proven that social and environmental factors have also placed their educational and social development at significant risk. A recent study published by UCLA graduates exhibits Black students in LA County disproportionately attending schools that the state declared as "low-performing" or lack the critical resources needed to alleviate the many social and psychological needs of their students.
"The academic achievement of Black and low-income students in California has been a focus for many decades in schools. Yet our failure to recognize that schools alone cannot address poverty and unhealthy community conditions has made it more difficult for social policies to have a positive impact on the needs of our most vulnerable children," Joseph Bishop, Director of the University of California, Los Angeles (UCLA) Center for the Transformation of Schools stated.
Researchers from the Center for the Transformation of Schools (CTS) and Black Male Institute (BMI) at the UCLA Graduate School of Education and Information Studies released a new study on October 10, 2019, titled Beyond the Schoolhouse: Overcoming Challenges & Expanding Opportunity for Black Youth in Los Angeles County.The two groups collaborated for the joint project to develop a countywide strategic plan to improve the quality of life for Black children. They received funding for the study from the Hewlett Foundation, the California Endowment, the Broad Foundation, the Stuart Foundation, and the Office of Supervisor Mark-Ridley Thomas. Additionally, LA County Supervisor Ridley-Thomas hosted a community meeting at the Welnest Avis and Mark Ridley-Thomas Life Learning Center on October 9, 2019, to discuss the findings.
"Our hope is that this new study will not only make clear the urgency of the situation confronting Black students, but that it will inform and fuel a strategic and comprehensive effort to address the accumulation of disadvantage confronting Black youth in order to improve educational and developmental outcomes," Bishop added.
According to the "Beyond the Schoolhouse" study, in 2018, African-American students were the top ethnic group in LA County to not meet the standard on the Smarter Balanced Assessment Consortium (SBAC). While 42% of Black students did not meet the SBAC standard for English, 54% of Black students also did not meet the SBAC standard for Math. Additionally, LA County Black students had the lowest college eligibility rates in 2018, with 45% of the students reportedly meeting the California State University and the University of California requirements.  Black students are more likely to face punitive discipline as well. The chronic absenteeism and suspension rate for Black students in LA County is disproportionately higher than for all other racial groups, as stated in the report.
Although the 2001 installment of No Child Left Behind (NCLB) was established to reform schools and raise student achievement, numerous of schools in California are still lacking the critical resources like school counselors, nurses, and social workers, to adequately address and respond to the social and psychological needs of ethnic students. Studies show that Black students attend racially isolated schools, and live in impoverished communities that possess persistent racial wealth gaps. Black communities are more likely to possess various environmental hazards that adversely impact the health of Black children and families. Findings also show that the life expectancy for Black residents is lower than other racial groups.
Depicting his initial reaction to the study, Tyrone C. Howard, director of BMI and UCLA professor, disclosed, "For someone like me, this is even more depressing because I'm a product of Compton schools and LA County. So, this is personal for me. I'm proud of LA, and I'll defend LA as long as I can. The more we uncovered this data, the more it saddens me because, in some ways, it feels like things are getting worse for Black students."
"Part of really frustrates me is the fact that I think we as a state of California, we like to consider ourselves progressive and leaders in different fields. But, when you look at the data, we're not as progressive, and far along with supporting Black students, as some other states, we tend to ridicule like Mississippi and Alabama. So, it's frustrating for me, but at the same time it further energizes me to say, 'we got to do something to end this ongoing tide of hopelessness for far too many Black children and families.'"
During the briefing, participants discussed the various causes of the disproportionate numbers of Black students facing hardships in LA County schools and community housing.  Furthermore, essential meeting participants consisted of LA County Supervisor Mark Ridley-Thomas; President and Chief Executive Officer for The California Endowment Dr. Bob Ross; California State Senator Steven Bradford; Superintendent of the Los Angeles Unified School District Austin Beutner; Los Angeles County Office of Education Superintendent Debra Duardo, and others. Howard and his colleague Dr. Pedro Noguera, founder of CTS,  strategically sought support from government officials, public health executives, mental health clinicians, community organizations, and educators. They spent the morning deliberating on possible action plans to combat the economic and social issues as well.
"I think the outcome of the meeting was mixed. A lot of folks in the room obviously felt like these weren't new findings. I don't think a lot of folks walked out of the room, surprised by what we showed. I felt, and I heard from people, a sense of urgency for us to do something. The question becomes, how do we maintain that momentum after the release of the report and a really powerful meeting," Howard shared.
Since the meeting, Professor Howard and Dr. Noguera have devoted much of their time into building an advocacy team, implementing action plans, and networking throughout Southern California communities. Individual schools have already invited Professor Howard and Dr. Noguera to come in and share the "Beyond the Schoolhouse" data. During the next couple of months, the team intends to conduct forums like the community meeting, in community-based organizations around LA County. They also plan to talk to Black students in LA County directly about possible solutions.
Speaking on the call to action following the briefing, Howard proclaimed, "The second phase of the report will be us doing focus groups and interviews with Black students across the county. We want to know what Black students believe is happening, and more importantly, what they think they need in order to help disrupt some of these challenges. I think some young people have keen insights and perspectives that can help us, but yet we don't oftentimes create platforms for them to talk."
"Dr. Noguera and I are really committed to trying to continue to engage elected officials at the local, county, city, and even at the state level. We can't just keep talking about this. We put forth some recommendations that we think are really actionable, but the recommendations aren't just for one group. They are for folks at the district, state, and community level. So, everyone can play a role."
Nipsey Hussle Memorial Brings True Story to DTLA Staples Center
Yesterday, thousands of friends, family, and fans paid tribute to the late, great Nipsey Hussle at his "Celebration of Life" memorial service, held at Staples Center in downtown Los Angeles. Local news and live streams live broadcast the memorial service for those who were not able to attend.
For members of the West Coast and fans nationwide, Hussle's passing has embodied times much like the somber and lost feelings when the legendary Tupac Shakur was murdered in 1996. Hussle often referred to himself as the "Tupac of my generation."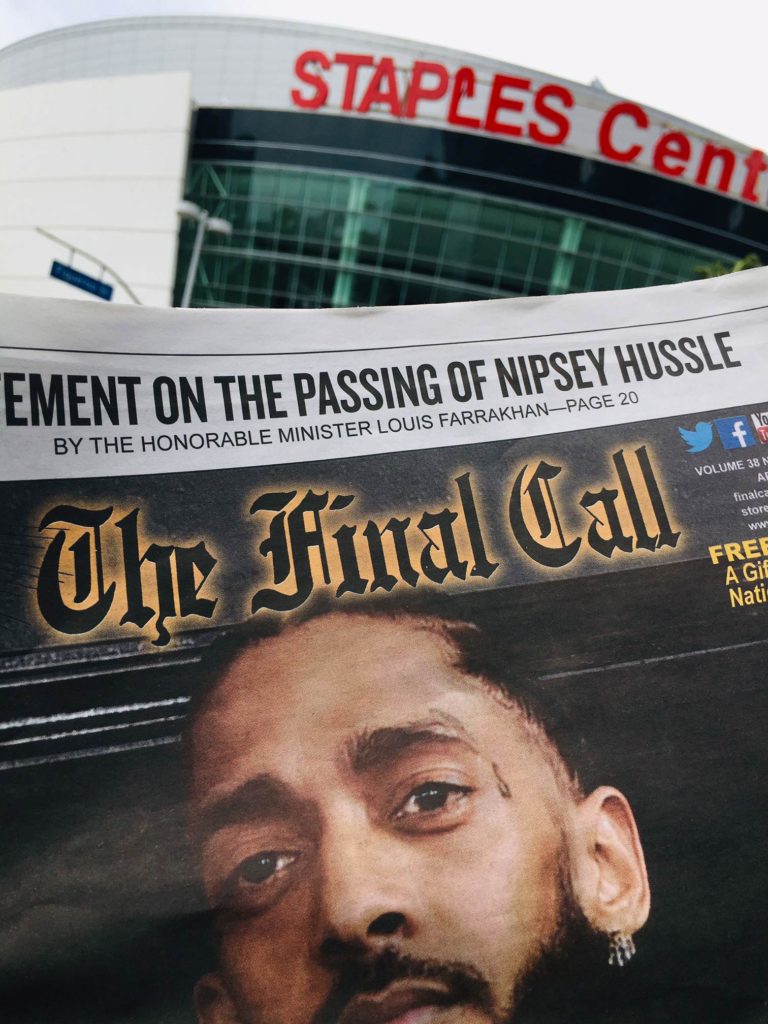 Hussle's memorial began with a live band playing singles from his 2018 Victory Lap album, which was nominated for "Best Rap Album" at the 2019 Grammy Awards, "Right Hand 2 God" and "Victory Lap." The memorial service consisted of scripture readings from Minister Reid Rich, Pastor Shep Crawford, and Father Thomas Uwal. Family tributes given during the memorial service comprised from Hussle's mother Angelique Smith; life partner Lauren London; brother Samuel Asghedom; sister Samantha Smith; and father Dawit Asghedom. Hussle's 7-year-old daughter, Emani Asghedom, and 2-year-old son, Kross Asghedom, also made an appearance on stage amid the memorial. London's 9-year-old son with ex-boyfriend Lil Wayne, Cameron Carter, and Hussle's nephew, Khalil Kimble, joined them as well.
Karen Civil, Hussle's business partner and friend, shared a heartfelt letter personally written and sent by former president Barack Obama to Hussle's family on Thursday morning. Friends of Hussle including Snoop Dogg, YG, and DJ Mustard, among others gave remarks at the memorial service. Marsha Ambrosius, Anthony Hamilton, Jhene Aiko, and Stevie Wonder were among the memorial musical performers. Additionally, multiple video presentations were displayed.
Following the service, Hussle took his final "Victory Lap" around his native South LA, in the form of a 25.5-mile procession. The procession trailed through LA County cities including Inglewood, Watts, and passing by Hussle's The Marathon Store in the Crenshaw District. Thousands of people lined the streets of South LA to honor Hussle along his route to the Angelus Funeral Home on Crenshaw Blvd.
Hussle's birth name Ermias Joseph Asghedom when translated means "God Will Rise." On several websites, Hussle is described as a rapper, songwriter, entrepreneur, philanthropist, and community activist. Hussle's music "marathon" can be traced as far back to his first recorded mixtape, Slauson Boy Volume 1. In his early years, he was known for selling his CDs out of a car trunk on the streets throughout the Crenshaw District. Prior to Victory Lap'srelease, many were unaware of Hussle's true potential.
Moreover, there still remains controversy around the trajectory of Hussle's impact and influence. Here are six song lyrics released prior to Victory Lap, that may reflect why we remember the true story of Nipsey Hussle.
#1 "Crenshaw & Slauson (True Story)" 
"I had a vision that nobody else could see/Sold my shit to D-Mac, a little less than 10 Gs/Brought my grocery bag of cash back to Blacc Sam/He matched a n***a, next day we went to Sam Ash/We bought a Pro Tools and a microphone/Studio was far from plush but them lights was on/Couple hunned thousand stashed at my mama's home Real estate in Atlanta, but ain't nobody know."
Hussle was notoriously known for his affiliation with the Rollin 60s Neighborhood Crips, and often referred to as "Neighborhood Nip." Although he was involved in a gang, Hussle had the vision at a young age to become a well-versed rapper, stack his money, and help uplift the Crenshaw District. He had recently purchased the entire strip mall where The Marathon Store is located and intended to redevelop it into a mixed-use residential and commercial complex.
LA City Councilman Marqueece Harris-Dawson announced renaming the Crenshaw Boulevard and Slauson Avenue intersection to "Ermias 'Nipsey Hussle' Asghedom Square" on April 9, in honor of Hussle getting shot and killed at his clothing store near the intersection.
On April 10, Congresswoman Karen Bass, representing LA's 37thDistrict, entered Hussle into the congressional record. During her speech on the House Floor, Congresswoman Bass said, "As a humble visionary he saw the overlooked, and welcomed the dismissed. He reminded our community that the power we hold is the power of where we come from, and that awareness of that power can never be taken from us. He will be remembered by South Los Angeles as a protector, inspirator, father, brother, and an unabashed son of South Los Angeles. For all that he was given he gave back, and for that legacy, South Los Angeles has been changed forever."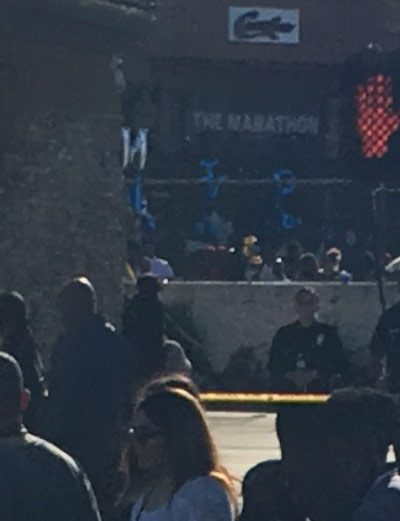 #2 "I Do This"
"Longwinded, running through this life like it was mine/Never settling, but setting every goal high/One thousand burpees on the path to my own destruction or success/But what is a mistake without the lesson?/See, the best teacher in life is your own experience/None of us know who we are until we fail/They say every man is defined by his reaction to any given situation/Well who would you want to define you?/ Someone else or yourself?/ Whatever you do, homie, give your heart to it/ And stay strong"
Hussle was best known for his brands and life slogans "The Marathon Continues" and All Money In Records. In all of his work, Hussle was dedicated to motivating people to both endure and thrive. He encouraged people to not just live a purposeful life but to leave a legacy as well. Hussle also understood the power of telling his own narrative, and he used his music to influence others to do the same.
#3 "Status Symbol"
"Eyes bloodshot, I don't ever sleep/My n****s act on instinct, we don't ever think/When confronted with a problem, we don't ever flee/We connected at the bottom like the letter V"
Hussle will forever be respected for his legacy of becoming a self-made millionaire, birthed out of the Crenshaw District. Although he was able to pull himself out of the trenches, he never left his loved ones behind. He remained loyal to those he had known before he became famous and often did what he could to help them rise-up alongside him. Lauren London concluded her speech at Hussle's memorial service saying, "In Hussle words, because he always used to say this: The game is going to test you but never fold, stay 10 toes down. It's not on you, it's in you and what's in you they can't take away."
#4 "County Jail"
"Sh** ain't looking good, still I keep the faith/Sittin' in this county jail tryna fight my case/Running through these fades, I just miss my daughter face/They bring me out my cell sixty minutes every day/Back and forth to court, bank on n****s in these tanks/Laughin' with my homies 'bout them days when we was raised/You only down the street but seem so far away/As I'm sitting in this county jail tryna fight my case"
Hussle went through a life of struggle, hustle, and getting in trouble with law enforcement. However, Hussle found purpose in his pain through music. His music resides as a relatable source of encouragement for many people struggling in the court and prison systems worldwide. He was also an emblem of gang unity for the world, by often doing business with rappers from rival gangs. Snoop Dogg spoke on Hussle's advocacy for unity during his speech at Hussle's memorial service stating, "I was explaining it to him. … You made records with YG, you make records with Game, you make records with Problem. You making records with Bloods. … Cripping and Bloods making records and y'all really bonding, y'all really love each other. Y'all pulling up together, you're in their neighborhoods, you're loving them and they're loving you. You are a peace advocate, Nip."
#5 "Ocean Views"
"Told you '08 this s**t was ours, gettin' this cake/Yeah n***a, to gettin' more/Look at this world young n***a, it's really yours/N***a this really mine, my n****s is really ford/Them buildings is really high, them cars is really foreign /And all I see is Ocean views, small circle it's the chosen few/I wrote it down and I followed through"
As depicted through several of his songs, Hussle raps about having visions of his success with living out his dreams long before they came to fruition. His music continues to further motivate people from all walks of life, like students, working folks, and gangstas, to also envision themselves being successful. According to his mother at the time of her speech at the memorial, she said Nipsey was known to have "an aura around him that if you sat with him, it gave you power and energy. It filled up your spiritual tank."
#6 "Love"
"Trust funds for Emani, in case this life take me I live it/To the fullest never let this life break me/Thus far has been a cold demonstration/Number one question now is did the fame change me/F***ing right young n**** should I still be gang banging?/Wait hold up.. hold that thought, take these shots/An tell my n****s S.I.P. the marathon don't stop/Before I sell my soul I'll give my life"
Hussle was a loving father, husband, son, grandson, and brother before the music. The wellness of his family was always his top priority. Loyalty and respect were his core values. During the memorial service, Hussle's mother mentioned that in the months prior to his death, he had been more attentive to the family. He started visiting his grandmother every day, and sending text messages to his mother saying, "Hey Mom. I love you. I'm just sending you some positive energy for your day. I hope that you have a beautiful day," explained Hussle's mother Angelique Smith. He was also known to be prophetic in a sense, always knowing that he would die before his time. However, he never let the fear of death stop him from conquering his dreams.
A freshman becomes an advocate for inclusion at her college campus
April 07, 2019
By Alysha Conner | The Atlanta Voice
Makayla Graham is a 19-year-old Atlanta, GA native and freshman at Georgia Southwestern State University (GSW) in Americus. She recently established the university's first-ever Black Student Union (BSU). GSW was founded in 1906, and resides as a public university located in Americus, GA. According to College Factual, GSW has a total enrollment of approximately 3,000, with roughly 27% Black students, and 13% Black faculty.
Graham began attending GSW during the fall semester of 2018. She currently is majoring in Political Science, with a minor concentration in Gender Studies. After a discussion with one of her professors who encouraged her to participate on a diversity council, Graham decided to orchestrate an organization that would advocate for the Black students at GSW.
"I told my teacher about thinking of starting a Black Students Union, and he pointed me in the direction of this advisor named LaToya Stackhouse," said Graham.
"I told her about my idea of a Black Student Union and she said, 'This is something that we need on this campus.' A lot of other universities and schools in Georgia have a diversity and inclusion department, and our school does not have that. She was like since we don't have that, we need something that's a bigger liaison for the students to come towards. So she was like I think you should meet with the vice president and tell her your ideas."
Following her conversations with GSW faculty members, Graham drafted a model constitution for the BSU. She went on to present the constitution to GSW's Vice-President for Student Engagement and Success Dr. Laura D. Boren, during a sit-down meeting in November 2018.
Depicting her process of obtaining approval for the BSU, Graham said, "I was really shocked that she even put me on the calendar. I had the meeting with the vice president, told her my ideas, presented the constitution, and told her why we needed it. She agreed that it was something that we needed, because she came from a university in Texas where they had a Black Student Union. She was like why don't we have that here."
"So she gave me the okay, and then I went through the formal process of getting approved. I had to submit an online petition on this website called Canes Connect. You have to submit the names of the advisor, founder, and president. Then you upload the constitution on the website. After you upload it to the website it goes to the faculty senate, they overview the constitution, and then you have to wait for it to get approved."
Despite the help of a few students proofreading the constitution, Graham went through the entire process of obtaining approval for the BSU organization alone. On January 17, 2019, Graham completed and submitted her petition. Thereafter, she waited two-months until receiving notice on March 25, 2019 that the university successfully approved her petition.
Shortly after receiving notice of approval, Graham recruited several other GSW freshman students to join as BSU board members. Current BSU board members are: Makayla Graham, founder and president; Lorelle Carey, vice president; Kaiyah Vickers, secretary; Jada Mike, financial advisor; Asia Pittman, marketing director; and Alicia Adams, community outreach director. LaToya Stackhouse, GSW Interim Director of Residential and Campus Life, serves as the BSU faculty advisor.
"All of the people that are on the board are all freshman and Black females, except our historian," Graham said. "We have nursing majors, psychology majors, marketing majors, and other majors. They're also all my friends. My roommate is actually the treasurer. My friends have been really supportive throughout the process. My friends are just as dedicated and focused as I am. So since I had the opportunity for us to create a legacy, I wanted to have the people closest to me. I also wanted to make sure that freshman were on the committee so the BSU could have longevity. Instead of me looking for older people to be on it knowing they would be leaving soon."
An official BSU interest meeting will be held during the fall school semester. Graham has also insisted that the organization will take part in various community service projects within Sumter County, such as mentoring the youth, and caring for the elderly. The organization intends to incorporate events in alignment with a yearly theme, with this year being 'Forever We Reign.'
Further explaining the meaning behind 'Forever We Reign' and the BSU's service events planned for the year, Graham stated, "It's all about protecting our legacy, and promoting excellence in the community. It's about showing that we are kings, queens, princes, and princesses. That's actually how we got the idea of the Power Princess Tea. I wanted our service project to be called The Royal Court. We will go to elementary schools and middle schools to teach the kids etiquette, self-confidence, and give back to them."
"Sumter County is a rural and low-income area. We want to teach the younger students that they can be anything they want to be, and don't let this little area stop you form achieving your dreams. We want to expose to them that they are royalty."
Since the organization has been approved, the American Red Cross reached out to collaborate with the BSU, by sponsoring a GSW campus blood drive on April 24th. Also on April 24th, the BSU plans to have a "Power Princess Tea", which will be an informal tea party for female college students to connect with, and mentor young girls in kindergarten through sixth grade.
"Once we got approved, a lot of people were excited to hear that this process was happening. We literally just made an Instagram and we already have 230 followers. I think the campus is really excited about our upcoming events," expressed Graham.  "Although there are other Black organizations on the campus, there wasn't a cohesive union of a sense. The Black Student Union is all about promoting leadership.  It's a place where we can express our cultural ideas and beliefs, and be given a platform to share them with. I envision for this organization to hold as much weight as a student government organization. Hopefully one day we can get a position on student government."
Civil rights activist Joseph E. Lowery's legacy still thrives in Atlanta
February 22, 2019
By Alysha Conner | The Atlanta Voice
The city of Atlanta renamed Ashby Street to Joseph E. Lowery Boulevard in 2001 to recognize the man
who devoted over 50 years of his life to civil rights and social change.
Located west of downtown Atlanta in the West End neighborhood, Joseph E. Lowery Blvd. coincidentally intersects both Martin Luther King Jr. Drive and Ralph David Abernathy Expressway; conveniently running past the Atlanta University Center (AUC) where the
Joseph and Evelyn Lowery Institute for Justice and Human Rights (Lowery Institute) calls Clark Atlanta University home.
Established the same year as Lowery Blvd.'s renaming, the Lowery Institute is devoted to training, developing, empowering, and inspiring young leaders to improve their communities for the common good.
Lowery's daughter, Cheryl Lowery is the current president and chief executive officer of
the Lowery Institute.
A member of the founding board, she was once the institute's treasurer.
"The institute is housed on the campus of Clark Atlanta University, because Clark Atlanta determined that they wanted to create an institute on this campus," Lowery said.
"My father is a retired United Methodist minister, and this is a United Methodist school. My mother also was an Alumni of Clark College, so Clark Atlanta was a natural fit."
Lowery also shared, "We are really aligned in terms of our social justice and wishes for young people. It's a wonderful relationship, and we're proud to be on this campus."
A Huntsville, Alabama native, Lowery earned his bachelor's degree from Paine College in Augusta, Georgia.
After graduating he entered the Paine Theological Seminary to become a Methodist minister and went on to graduate from the Chicago Ecumenical Institute in 1950 with a doctorate in divinity.
While Lowery is famously known for being one of the leaders of the Montgomery bus boycott and the march of 1965 from Selma to Montgomery, he also assisted in founding the Southern Christian Leadership Conference (SCLC) in 1957, along with Dr. Martin Luther King, Jr. and other civil rights leaders.
While Dr. King served as the SCLC president, Lowery was appointed as the vice-president.
In 1967, Lowery became the national chairman, and member of the board of directors for SCLC and after King's assassination in 1968, Lowery took over as pastor at the Central Church in Atlanta; thereafter, he became president and CEO of SCLC in 1977.
Lowery continued his work in civil rights in 1982 by leading the longest civil rights march from Tuskegee, Alabama, to Washington, D.C., to promote the extension of the Voting Rights Act of 1965.
Lowery retired from ministry in 1992, and left SCLC in 1997, the same year he received the Lifetime
Achievement Award from the National Association for the Advancement of Colored People.
He's received the Martin Luther King Jr. Center Peace Award (2004), the National Urban League's Whitney M. Young Jr. Lifetime Achievement Award. Lowery also received the Presidential Medal of Freedom (2009) after delivering the benediction at the inauguration of former President Barack Obama.
Legacy of the Atlanta Student Movement
February 22, 2019
By Alysha Conner | The Atlanta Voice
At the former site of Yates and Milton Drug Store, presently known as the Clark Atlanta University student center, where the initial meeting of the Atlanta Student Movement took place, a marker has been placed to acknowledge and capsulate the significant time in history.
As a tangible legacy of the noble strides executed by students of the Atlanta University Center (AUC) in 1960, the street that cuts through the campus of Clark Atlanta University has been renamed to Atlanta Student Movement Blvd.
Formerly known as Fair Street, a ceremony hosted by former Mayor of Atlanta, Kasim Reed, was held on November 1, 2010, to dedicate the renaming of the street to Atlanta Student Movement Blvd.
The Atlanta Student Movement began with three Morehouse College students—Lonnie King, Joseph Pierce, and Julian Bond meeting at the Yates and Milton Drug Store in Atlanta, GA on February 3, 1960.
They met to discuss orchestrating demonstrations in Atlanta similar to the sit-ins constructed by students from North Carolina A&T University in Greensboro, North Carolina. King, Pierce, and Bond arranged a meeting to further recruit students from all of the schools of the AUC: Atlanta University, Clark College, Morehouse College, Morris Brown College, and Spelman College.
On February 5, 1960, the meeting was held at Sale Hall Annex at Morehouse College. Approximately 15 students were in attendance.
Though attendees were predominately Morehouse men, the president of Clark College's student government at the time, James Felder, was present in representation of Clark College.
On March 9, 1960, AUC students established An Appeal for Human Rights as a student manifesto advocating for equality, justice, and desegregation in Atlanta for African Americans.
Roslyn Pope, a Spelman College student, was appointed as the editor of The Appeal, along with Lonnie King, Julian Bond, Herschelle Sullivan, Carolyn Long, and Morris Dillard as contributors.
The document appeared as a full-page paid advertisement in the Atlanta Constitution, and shortly after was published in several other newspapers.
"We want to state clearly and unequivocally that we cannot tolerate, in a nation professing democracy and among people professing Christianity, the discriminatory conditions under which the Negro is living today in Atlanta, Georgia supposedly one of the most progressive cities in the South," they wrote.
"If a Negro is hungry, his hunger must wait until he comes to a 'colored' restaurant, and even his thirst must await its quenching at a 'colored' water fountain," also read the appeal.
The Appeal focused on seven areas: education, jobs, housing, voting, hospitals, law enforcement and access to facilities such as movie theaters, concert halls, and restaurants.
Causing uproar all over the nation, the students received an overwhelming amount of support letters and monetary donations.
William Hartsfield, former Mayor of Atlanta, praised the AUC students, calling the Appeal "a message of great importance to Atlanta."
Less than a week after the Appeal for Human Rights was released, the first initial sit-ins began.
AUC students organized the Committee on Appeal for Human Rights (COAHR), in order to help with the planning of protest demonstrations, and communicating their goals.
The original committee consisted of Lonnie King as chairman, John Mack from Atlanta University as co-chairman, Benjamin Brown as treasurer, and Mary Ann Smith as secretary. As a request made by COAHR, participants were required to sign an oath of non-violence.
At around 11 a.m. on March 15, 1960, approximately 200 students from all six institutions protested at restaurants located in tax-supported institutions, including the cafeterias at the State Capitol, City Hall, and Fulton County Courthouse. Julian Bond was arrested at City Hall. Ultimately, 77 students were arrested.
Sit-ins and arrests continued sporadically throughout the spring of 1960. Black businesses and institutions throughout Atlanta exhibited support towards the students and their movement.
For instance, employees from Atlanta Life Insurance Company were allocated time off to participate in picket lines.
Restaurants surrounding the AUC, such as Paschal's and Frazier's Cafe Society, also supported the students' movement by serving as meeting places for the students, bringing food to picketers, and owners paying the students' bail.
On October 19, 1960, several hundred students staged sit-ins throughout Atlanta, resulting in a large number of arrests.
The Rev. Martin Luther King Jr. joined the movement by accompanying the students during the sit-ins and getting arrested as well.
Students arrested as a result of the sit-in took a vow of "jail no bail," as they continued their protest behind bars.
Eventually, COAHR called a truce at the request of Hartsfield, who wanted 30 days to attempt a settlement between the students and downtown merchants.
On October 23, 1960 students were released from jail. Students resumed their protests on November 25, 1960. However, nonviolent protestors were met by a group of Ku Klux Klan members from throughout the Southeastern United States to Atlanta, who wanted to stop the desegregation movement.
An agreement was signed on March 6, 1961, to end lunch counter segregation in over 300 eating establishments in Atlanta, and the re-hire approximately 500 to 600 African American employees who had been fired during the sit-in campaign.
This marked the first-ever agreement to be signed by any white group in the South to end segregation in any area.
More than 300 lunch counters and restaurants were desegregated on September 27, 1961.
After COAHR administered their campaign to end segregation in movie theaters in Atlanta April of 1961, theater owners finally agreed to end segregation in April of 1962.
Many of the Atlanta Student Movement leaders went on to play a role in the national civil rights movement. Julian Bond eventually became communications director of SNCC, and later served in the Georgia House of Representatives.
Atlanta's top entertainment influencers form first-ever Georgia Entertainment Caucus
January 31, 2019
By Alysha Conner | The Atlanta Voice
(Photo Credit: Tenisha Bell/Perfect Pitch Media Group)
The Georgia Entertainment Caucus (GEC) was recently established and announced during a press conference on Jan. 24, held at the Georgia State Capitol.
The GEC is the solution to bridging the gap between politicians, entertainment professionals, and the community.
"It is now time that we stop only involving the entertainment industry when it's time for an endorsement on a campaign," said Erica Thomas, Georiga State Representative for District 39.
"It is time that Georgia recognizes the power and influence of thousands of singers, songwriters, producers, production teams, and every hard working Georgian, that has put Georgia on the map as one of the top places to do business in the entertainment industry."
As a bipartisan caucus, the GEC is comprised of esteemed members of the Georgia House of Representatives, along with well-known figures in the entertainment industry.
Caucus members from the entertainment industry include Grammy Award-winning music producers, executives, singers and songwriters hand picked by co-founder Catherine Brewton, such as: Dallas Austin, Owner of Rowdy Records; Sean Garrett, songwriter/Super Producer; Ms. J., Founder of Free Wishes Foundation; Catherine Brewton, VP of Creative at BMI; Mitch Martin, Sr. Dir., Creative BMI Music; Ryan Wilson, Co-CEO, The Gathering Spot; Ray Daniels, Sr. VP, Warner Brothers; Chaka Zulu, Entrepreneur, CEO; Efe Ogbeni, Entrepreneur; Jason Carter, Founder, One Musicfest; and Kei Henderson, Management.
"When I met with Catherine Brewton she expressed to me that the entertainment world kind of feels left out of the issues of the government," Thomas said. "I felt that in order to empower the entertainment industry we need to bring them in, and get them a seat at the table."
One of the prime initiatives the GEC intends to act on first is to revamp and improve Atlanta's Art and Entertainment District.
"The entertainment district is one of our initiatives that I'm putting together, where it's kind of like Music Row in Nashville. All of the studios will be on one street," Thomas said.
In their efforts to provide members of the entertainment industry more opportunities to record in the newly created 'Music Row' in Georgia, the studios will also be offered as a local attraction for tourist to explore.
"We also want to create a music museum. There are entertainers who have Grammys and plaques, and are willing to put inside the museum," Thomas said.
"When people come from all over the country to see the Georgia Aquarium, World of Coca-Cola, and College Football Hall of Fame, it's going to be amazing for them to see a hall of fame dedicated to music."
The GEC plans to follow the lead of the Dallas Austin Foundation, Inc., established in 2003 by fellow GEC member Dallas Austin, by providing additional music and film educational opportunities to Georgia youth.
"This is a way for us to connect with the community, and turn it into something positive. We will put more studios in Atlanta schools, so the kids can have the opportunity to flourish their music abilities," Austin said.
According to Thomas, the foundation has already infiltrated 10 schools which GEC will use as a model for their initiative.
"Not only do we want to just put studios in, but put the people in place that can teach the kids all about music for free. We also want to have entertainers coming to schools and talking to the kids," Thomas said.
"When we see members of the entertainment industry, we don't know these are highly intelligent individuals who work very hard to achieve where they are. The kids need to understand that hard work gets you there."
As the GEC strives to move forward with their initiatives, the caucus has committed to meet once a quarter to continue to bring together state representatives and the entertainment industry.
"We want to no longer be the Georgia that you start off, and then venture off into your career to another place like Los Angeles or New York," Thomas said. "When I think about all the phenomenal people in the industry that came straight and grown from Georgia, I think of Ray Charles, James Brown, Outkast, and Little Richard just to name a few."
"We want to make sure that Georgia is not just the place to start your dreams, but to live your dreams out."
Oprah Campaigns and Canvasses for Stacey Abrams
ELECTION 2018 | November 2, 2018 
"I was just sitting at home in California minding my own business but I could not stop thinking about what's going on down here…
With that thought as her backdrop, media mogul Oprah Winfrey arrived in Atlanta Thursday morning to endorse and canvass for Democratic gubernatorial candidate Stacey Abrams.
Along with door-to-door campaigning, Oprah made an appearance at two of Abrams's campaign rallies. The first rally was held at Cobb Civic Center's Jennie T. Anderson Theater in Marietta, while the second rally took place at the Porter Sanford Arts and Community Center in Decatur.
"Nobody paid for me to come here. Nobody asked for me to come here. I paid for myself and I approve this message," Oprah declared while kicking off the first rally.  
As a registered Independent voter, Oprah supports voters having the right to vote based on their values and conscience.
It was just three days ago that Oprah called Abrams to offer her support with her campaign. Oprah explained that she volunteered to help, because she genuinely believes that Abrams's values what is best for the people of Georgia.
"Stacy Abrams's values are in alignment with the consciousness in which our democracy has been founded. The very foundation of our democracy is to think about other people, to live a life in service to others," Oprah explained.
Oprah highlighted important matters Abrams has focused on in her campaign, including: Medicaid expansion, keeping families together, common-sense gun control, environmental protection, affordable housing, and criminal justice reform.   
"And when I stand in the polls, I do as Maya Angelou says, 'I come as one but I stand as 10,000,'" Oprah told the crowd.
Oprah enlightened Georgia voters of the power and value of their ballot. Her goal was to encourage voters to make history, by voting to make Abrams the country's first female African-American governor.
"… I'm here today because of the men and because of the women who were lynched, who were humiliated, who were discriminated against, who were suppressed, who were repressed, who were oppressed for the right of equality at the polls," Oprah explained. "And I want you to know that their blood has seeped into my DNA and I refuse to let their sacrifices be in vain."
Oprah also killed any rumors of a possible Presidental run in 2020.
"I don't want to run, okay? I'm not trying to test any waters. Don't want to go in those waters," Winfrey said.
During a sit-down conversation at the rally, Oprah asked Abrams, "I am intrigued by your story and have so many other people been intrigued by your story. But, more that intrigued by this idea that you would actually dare to take this on. I have found in my own experience that when something major is happening, there's something inside you that feels like it's a calling. It's more than just 'oh I just want to have a career,' and I want to know how that manifested inside you? That you knew for such a time as this, you were called to this moment?"
Abrams initially responded by recognizing her parents, who were in the audience, for teaching her the key values that has motivated her journey.  
"We used to volunteer which made me a little irritated, because I'd say 'we're poor too, why are we volunteering?' My mother would say, 'No matter how little we had, there were more people with less. Your job is to serve that person.' My dad was more distinct saying, 'having nothing is not an excuse for doing nothing.' It instilled in me two things. One, I believe poverty is immoral. I think it robs us of our humanity. I think it robs us of opportunity, and I think it's solvable. The second piece is that I realized when I was in the legislature, that the person who sits on the governor's office decides access to Education, healthcare, jobs, and more," Abrams further answered.
With Election Day four days away, Abrams encouraged the audience to volunteer hard.  She invoked supporters to canvass Atlanta and surrounding communities by knocking on doors and imploring people to vote if they have not done so.
Abrams also motivated the audience to simply educate others on why their vote matters.
Democratic candidate Krish A. Bralley runs for Georgia House 49th District
ELECTION 2018 | November 1, 2018 
As a new face and voice in the political world, north Fulton native Krish Bralley said he aims to 'breathe new life' into the Georgia State Legislature.
Bralley, who once worked as an electrician and later evolved into a community-based entrepreneur, has now emerged as a candidate for the 49th district Georiga House of Representative seat.
"You really have to decide too, are you just going to put your name on the ballot or are you going to really try to win," he said. "And, I decided I really wanted to try to win."
Bralley resides in  Alpharetta, GA with his wife and three children, including a newborn baby girl. His company, Expansion Electric, services households in North Fulton and surrounding areas. Surprisingly, his experience as a licensed electrician ultimately prompted his participation in politics.
Bralley declared his candidacy earlier this year after learning that his opponent Representative Chuck Martin would otherwise be running unopposed. As an incumbent candidate, Martin is currently serving his fifth term in office.
"Six months ago my wife was sitting on the couch, scrolling through her phone, and she goes, 'you know no one is running against Chuck Martin again this election coming up.' I had heard the name, but I wasn't really into politics," he explained. " I was very much into work. I looked over at her and said, 'I'll do it.' She thought I was joking.
"A few days later, we're down at the Capital building to get paperwork to qualify," he continued. "She looked at me right before we signed it and asked me, 'Are you sure you want to do this?'. I said, 'Yeah, I'm sure.'"
Despite Balley's lack of political experience at the onset of his campaign, he has gained the support of many Democratic supporters.
Embracing a liberal progressive platform, Bralley has enlisted the participation and engagement with millennials. He plans to utilize the forward-thinking attributes and behavior of millennials', to further help solve problems in Georgia.
Through his desire to assist people of all backgrounds across district 49, Bralley established his campaign on the foundation of reproductive rights, ending gerrymander, gun law control, transportation road improvements, Medicaid expansion, criminal justice, and education reform.
On the issue of Education reform, Bralley said he emphasizes with the challenges that youth face, being that he had reading and social disabilities. His mission now is to be an advocate for youth who too struggle with learning and social disabilities.
Along with an increase in teacher salaries, Bralley has also endorsed the implementation of universal preschools. The movement will help combat the school-to-prison pipeline, by allowing all families, regardless of the child's abilities or family income, access to high-quality preschools.
"It's sad to see how kids can get discouraged at a young age, and as years go by they'll just get more and more bitter," he said. "Then they end up in prison."
"The right life starts very young. We need to as a society for everybody's good, to keep Georgia Pre-K fully funded. And to keep these kids educated and safe."
He's administered his healthcare reform campaign, in alignment with the platform of Democratic Party Governor of Georgia candidate Stacey Abrams.
In collaboration with Abrams, Bralley said he is dedicated to expanding Medicaid to provide rural health care access.
According to the Georgia Budget and Policy Institute, Georgia's uninsured health care rate of 12.9 percent is fifth worst in the country. Also, in rural Georgia, the uninsured rate could climb to more than 25 percent by 2026.
Georgia is among one of the only 17 states that do not participate in Medicaid expansion to close the health care coverage gap.
"We can afford it. We don't have a huge state debt. We have money," he said. "If we paid about two percent of our state budget, we would be reimbursed two billion by the federal government.
"That's money on the table we're leaving there," he added. "It's just purely I don't want to pay for anybody else's anything, even if it means closing hospitals in rural counties."
Stars Janelle Monae, Angela Rye encourage AUC students to vote
ELECTION 2018 | October 01, 2018
By Alysha Conner | The Atlanta Voice
Rising political and social media stars Janelle Monae and Angela Rye electrified a packed house at the When We All Vote and The Root-hosted voter registration rally exclusively for students, faculty, and staff of the Atlanta University Center at the Spelman College campus in Sisters Chapel on Sept. 27.
A nonpartisan nonprofit organization, When We All Vote has a mission to refine voting culture by rising participation in all upcoming and future elections. The Atlanta rally was part of the organization's "Week of Action" festivities from Sept. 22–29, in which volunteers across the country organized more than 2,000 grassroots events.
When We All Vote designed a Week of Action in order to recruit volunteers, as well as educating and registering voters for future elections. Co-Chairs for the nonprofit organization include Michelle Obama, Tom Hanks, Janelle Monáe, Chris Paul, Faith Hill, Tim McGraw, and many more notable figures.  
CNN Contributor, NPR Commentator, Principal and CEO of IMPACT Strategies, lawyer, and Political Strategist, Angela Rye, resided as the leading headliner for the evening.
Rye opened the rally with an Atlanta University Center University roll call welcoming, Spelman College, Clark Atlanta University, Morehouse College, and Morehouse School of Medicine.
Musical recording artist, actress, model, and Atlanta When We All Vote Rally Co-Chair, Janelle Monáe, also headlined the rally with Rye.
Monáe used her high-profile platform, to advocate equal rights for women, support the LGBTQ community, and influence wisdom in reference to voting rights and participation.
She also talked about crucial topics for humanity being explored during the elections in November such as rights for women, immigration laws, and gun reform. Disclosing her journey to become the recording artist and actress, Monáe said,
"The system will not work for us," the entertainer-actress said. "It's time we help and support our poor folks. I know those people who need the support. Those people are my family and your family. There is a 7 percent drop in Black votes from 2012 to 2016. History has shown what happens if we don't show up."
Though the event was closed to the public, it was live-streamed via weall.vote/atlanta. Guests were also encouraged to use social media handle #WhenWeAllVote, to contribute to promote the event and support the initiative.
Danielle Belton, Editor-in-Chief of The Root and media partner for Atlanta's "When We All Vote" rally was among the list of speakers for the event.
"The right to vote is on the bedrocks that our society is built on," Belton said to the audience. "…(W)hich is why so many people fought and died so we can have the right to express ourselves politically and choose who should best represent us."
Belton praised Michelle Obama and When We All Vote Co-Chairs for residing as influential advocates providing voter registration awareness within African-Americans communities nationwide.
Student Government Association Presidents from all four institutions of the Atlanta University Center were included in the welcoming remarks for the rally. Current 30th SGA Undergraduate President at Clark Atlanta University, Minister Warren Hawkins III said,
"Truth be told, this is what they don't want us to see. This side of greatness. This side of gathering in a mass," said Clark Atlanta University's SGA president Warren Hawkins III. "They don't want us to see this, because they don't want us to know that we can gather together for a better purpose to make positive change."
Hawkins III referenced the historical relevance and significance of the monumental street Atlanta Student Movement Boulevard.
Located within the AUC, Atlanta Student Movement Boulevard has cultivated many prominent student leaders who have helped improve racial equality. Hawkins acknowledged the pivotal events leading up to the Voting Rights Act of 1965, where African-Americans overcame legal barriers at the state and local levels that prevented from exercising their right to vote.
Bria Page, SGA President at Spelman College, admitted she registered to vote for her first time at Spelman College her freshman year.
In Georgia, Oct. 9 is the last day to register to vote. Midterm elections for 2018 a, featuring hundreds of congressional, state and local will be on Nov. 6.